Sunday, Jul. 18
Hole of the day: No. 18

By Bob Harig
Special to ESPN.com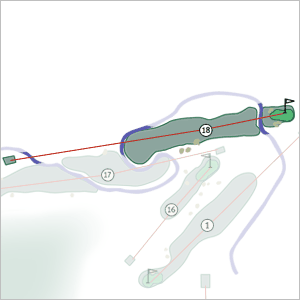 CARNOUSTIE, Scotland -- Needing just a double-bogey 6 to capture the British Open, France's Jean Van de Velde committed one of the biggest blunders in major championship history, hitting his second shot in the grandstand, chipping into the Barry Burn, leaving his approach shot short in a bunker and settling for a triple-bogey 7 that shockingly put him in a playoff with Paul Lawrie and Justin Leonard.
Van de Velde hit a poor drive on the hole to the right of the burn, but was surprised to have such a good lie. Instead of laying up in front of the burn, he elected to go for the green with a 2-iron. And that's when his troubles began.
Van de Velde pushed his shot into the grandstand, where he had a terrible lie. He chunked his next shot into the burn, and after thinking about trying to play it from the water, took a penalty drop. From there, he hit short into the greenside bunker. Now laying 5, he needed to get up and down to join the playoff, which he did.
The hole was also tough on Leonard, who went into Barry Burn in regulation and again in the playoff.
"I basically lost the British Open twice in one day, which is maybe twice as hard to take," Leonard said of the finishing hole.
When the playoff participants returned to the 18th for the fourth of four playoff holes, Lawrie had a one-stroke lead. With the others struggling, Lawrie ended the suspense by sticking a 4-iron to 3 feet from 221 yards.
Although the hole ranked as the third toughest of the day, Van de Velde was the only player to make worse than a double bogey.